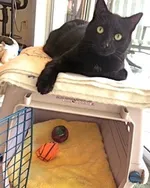 Getting your cat in for an appointment can be stressful. To make the event more enjoyable for all, we have a few suggestions.
DO:
Keep the cat carrier in the house as part of the cat furniture.
Use treats and toys inside the carrier to encourage kitty to enter.
You can use the pheromone spray Feliway on the bedding at least 30 minutes prior to departure.
If kitty if prone to motion sickness, let us know for dosing an antihistamine or the like to prevent nausea.
Don't:
Don't bring the carrier in on the day of the car trip. It will be a sure way to get kitty to hide under the bed.
If needed, we can also do a house call as an appointment.
Cat Massage Head to Tail
Extra Cat Care
Cat Massage Message Roll
Keeping Cats Cool and Groomed
Dust Bath for a Cat
Cat Jumps Through Hoop!
Nail Trimming
Giving Oral Medications to a Cat
Living With Cats With Claws
Back Stretch for a cat
Enrichment